Hotel API
If looking for a well developed hotel booking engine to go on your site, going to Softweb Technology is all that you need to do. With this booking engine you will be able to sell hotel rooms to the clients using your site to travel both in the country and outside. We offer you an API based solution that helps you offer clients with all the required information on your site, enabling them to reach to that final decision with ease.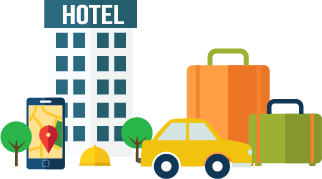 | SERVICES NAME | PRICE | DETAILS |
| --- | --- | --- |
| HOTEL API | ₹50,000+TAX | Domestic and International Hotels Included |
| HOTEL BOOKING WHITE LABEL API | ₹40000 +TAX | Domestic and International Hotels Included |
| HOTEL BOOKING API WITH SOURCE CODE | ₹140000+TAX | Domestic and International Hotels Included |
Our team would carry out API integration in a way that people visiting your site have access to complete and latest information coming from valid sources. The hotel booking engine developed by the Softweb Technology team promises multiple benefits to the travel agents, the most important one being conversions. We will give you an API that contains all basic components starting the hotel list for bookings to online reservations to cancellations or rescheduling. The tourists can easily compare prices and then make bookings for the one that fits with the needs and this is going to rise up the stability meter of your travel portal.
| SERVICES NAME | DOMESTIC COMMISSION | INTERNATIONAL COMMISSION |
| --- | --- | --- |
| HOTEL | 7 to 14% | 9 to 15% |
Feature Highlights
Customizable design and layout
Completely integrated into your website
Dynamic packaging and shopping cart capabilities
Room upgrades capabilities
Advanced and flexible yield capabilities
Detailed conversion analysis
Detailed reporting and revenue tracking
Quick loading custom light weight website
Business to consumer (Guest and User Modules)
Login with social networking site like Face book to capture user information.
Custom Discount code or Promo code
Admin can up loadable banner images
Registered SMS on Company name Ex. LM - XYZ
Predefined Email Notifications at registrations, password intimation, booking, cancel,
Online Page Search Engine Optimization required for the Internet Promotion
Every feature is predefined and design or style sheet not editable from customer end.

Business to Consumer model
Guest Login
Register Login

Business to Business model
Administrator Module
Distributor Module
Agent Module

Types of search fields like
Check in and Check out Dates
Location Based searching
Hotel Based Searching
Start Rating
Search by number of rooms.

Search Results Pages
Hotel name
Address
Star rating
Price Range
Location
Price High to Low and low to High
Rating High to Low and low to High
Customer Support
Manage your bookings online
Register page with all required user and agent fields.
Quick Login Page
View / Print your E-Ticket: Now print your air E-ticket instantly!
Cancel your booking online.
Check your ticket refund status.
Make a Payment: Pay your booking amount here.
Forgot Password
Feedback And Complaints
Contact us



Web Compliance Pages

About Us
Disclaimer
Payment and Cancel
Terms and Conditions



Integrated Reporting

Engine includes reporting and analysis of all transactions. These analytics facilitate decision-making and streamline your Resort's business.

Deposit Summary Report
Consolidated Report
Booking Sales and Commission Report
Balance Sheet Log



Payment Gateway Integrated (Debut and Credit Card, Net Banking)

Visa | MasterCard | Maestro | AMEX | JCB | Diners - Credit Card Option
50+ Debit Cards Options
30+ Net Banking Options
Agent/Deposit Accounts Creation
Login facility will be given to the agents to add funds in their accounts with a certain cutoff limit. By logging in on the portal agents can book the Hotels from their deposit accounts up to the cutoff limit and as they will reach their cutoff limit, they will not be able to book hotel rooms from their deposit account. Agents will get the different options i.e.
Company Management
Upload the logo and the same logo and contact information will be published on voucher, itinerary and invoice to be generated for the customer.
Search User
Create User
Change Password
Manage Markups
Check the booking status
Cancel the booking
Check the Invoices
Commission Generated
Check different type of reports of bookings
Option to show and hide commission and markup
Check the booking status
Commission Generated
Can send the deposit detail and upload transaction receipt for the admin.



Admin Control Panel and deposit account maintenance

Administrative Control Panel will be designed in a web form format. Features of the Control Panel will be:-




Agent Control Master:

Activate Agent
Deactivate Agents
Manage deposit accounts
Change commission, incentive for the agents
Can add Mark UP agent wise
Can check the bookings done by the agent.



Mark UP Master:

Default mark up where it controls going below or above certain fixed mark up by supplier by car from specific supplier
Adding, updating service fees
Adding , updating cancellation fees
Identify the minimum profit by volume & percentage



General Features:

Change Ad banners provided on home page
Manage Notices sent to the agents
Admin can view the receipts send by the admin for the deposit by an agent, and after verification, he can activate the deposit request and deposit will be added on to the agent's account.
In case of cancellation of a Booking, the cancellation information instantly comes on Admin.

Admin can view gross sale, commission payouts, with Net payable data for all components