Motorcycle Dealers Two Wheelers Inventory Tracking Software.
The Salient Features of Motorcycle Showroom Software.The Automobiles Two Wheelers software is used by the dealers who have the business of buying and selling two wheelers to their clients. The handwork by them is replaced by the on line with the help of this software(motorcycle trade software) to get more authenticated and to produce and issue on line printed bills to their clients.
The Working of the motorcycle software is very simple just to create an account of their clients against their sales order. The motorcycle inventory software tracks each and every transaction in term of raising the Sales order in favor of their cleints with the terms and conditions and payments mentioned in their sales order.The receipt of the payments from their clients and also the outstanding balance to be paid by them. It even prints the receipts to be given to their clients. The delivery challan is prepared along with the dispatch of the vehicle.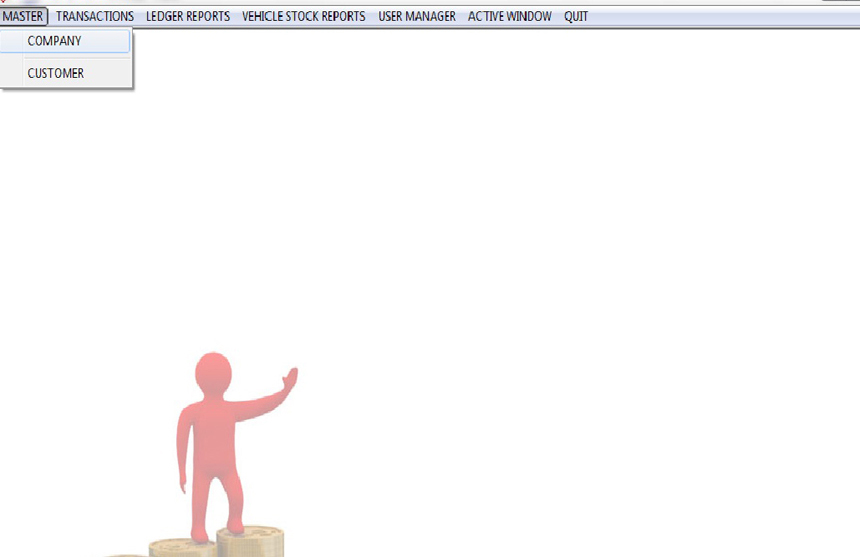 Main Menu Screen of Automobile Inventory Software
Main Menu Screen of Automobile Inventory Software.
The same way goes with their supplier , The database of the supplier is also maintained and managed in the motorcycle dealer software against our purchase order and with the terms and conditions.
He will get purchase bill mentioning the engine no and chasis no and he will pay to supplier i.e (Hero honda )..
He will raise sales Order against the customer mentioning the same vehicle engineno, chasis no Terms of payments, EMI Loans etc. against his Purchase Order.
The software gives the reports of the outstanding balance of supplier as well as of customers and ofcourse the closing stock of the inventory.
The motorcycle tracking software prints the cash book and the bank book too. It creates the master of the vehicles along with its categories.
The Software is user friendly and multi user, and the demo software can be downloaded by sending an e mail to us.
Main Menu Screen of Automobile Inventory Software